Saint Julian Press Poet
Ron Starbuck - Author and Poet
---
Advent Poems
---
Hail Mary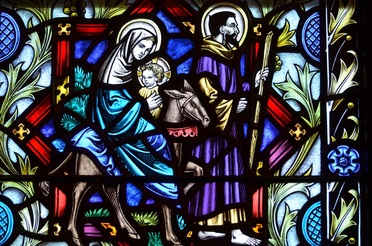 "Hail Mary, full of grace. Our Lord is with you."

In this hectic upside down non-stop world,

help us Mary to be still, and to say yes to God.

Help us not to fear, you who in your own fear

saw what we only now see in part.

Help us to peer clearly through the dimmest

mirror, to know fully and to be fully known.


"Blessed are you among women, and blessed is the fruit of your womb, Jesus."

Pray for us Mary as we stagger and stumble, like wounded beasts towards Bethlehem.

To a humble manger filled with straw, smelling of dung and dirt; to our own nativity.



To a miracle and a womb wondrous with child, gladly giving birth to the Christ child within,

wrapped and swaddled in bands of cloth.


"Holy Mary, Mother of God, pray for us sinners, now and at the hour of our death."

To be born, gentle in heart and strong in faith, on some still and unexpected night.

Let shepherds sing with untold joy, and multitudes of holy angels rejoice.

Let the Lord of hosts shine all around us. And let all who hear be amazed, at God's astounding love.


"Hail Mary, full of grace. Our Lord is with you."

Let such a revelation be at hand; let such a holy night, and such a birth be repeated once again.

Let it be revealed each single day as we live in the light of Christ.



"Blessed are you among women, and blessed is the fruit of your womb, Jesus."

As the angels tell, teach us Mary to fear not, never again; treasuring God's news of great joy

in our all too human and frail hearts. Help us to become one with Christ,



"that we may evermore dwell in him, and he in us."

Let the season of Advent come tenderly and fully upon us, pregnant with expectation.

Let the Word become flesh, to live amongst us. Emmanuel, God with us.



"Holy Mary, Mother of God, pray for us sinners, now and at the hour of our death."

Let us be born again and again in the Bethlehem of our souls,

in the quiet stillness of God's love for the world.






From: Wheels Turning Inward

---
---
Saying Yes to Jesus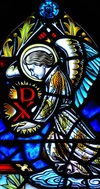 21st Century King James Version – Luke 1:
26
And in the sixth month the angel Gabriel was sent from God unto a city of Galilee, named Nazareth, 27 to a virgin espoused to a man whose name was Joseph, of the house of David; and the virgin's name was Mary. 28 And the angel came in unto her and said, "Hail, thou that art highly favored, the Lord is with thee; blessed art thou among women." 30 And the angel said unto her, "Fear not, Mary, for thou hast found favor with God. 31 And behold, thou shalt conceive in thy womb and bring forth a Son, and shalt call His name JESUS. 32 He shall be great and shall be called the Son of the Highest; and the Lord God shall give unto Him the throne of His father David, 33 and He shall reign over the house of Jacob for ever; and of His Kingdom there shall be no end."
46
And Mary said, "My soul doth magnify the Lord, 47 and my spirit hath rejoiced in God my Savior. 48 For He hath regarded the low estate of His handmaiden; for behold, from henceforth all generations shall call me blessed. 49 For He that is mighty hath done to me great things, and holy is His name.
Saying Yes to Jesus
(Waiting with an Expectant Heart)
It's the Christmas holiday season again Jesus.
Help us to know that it's all about saying yes to you Jesus, isn't it;
as your mother Mary said yes to God.
And it's all about learning to share your love with others and learning
to wait for your coming with an expectant heart.
How can we find the strength within ourselves
to give you that yes Lord? Every day we wake up and there
is always one more thing that someone has
added to our long list of things to do, and the holiday season
only makes it worse you know. Here we go again Lord, off to buy our
families things they can't seem to live without; our spouse the
newest iPad, or our children the latest video game.
We rush around during the week and the weekends far too much
and far too fast to even hear the announcement of your coming birth.
It's a wonder we don't miss Christmas Day in the rush
of it all. This year Jesus, will you please help us to slow down and
hear the angels singing? Will you help us to hear the announcement
during Advent that you, the long expected one, are coming now?
Will you help us to wait with expectation? Emmanuel – "God with us."
Will you help us Jesus to see that now, here deep inside our hearts,
not tomorrow, but now; now is the time of your second
coming and that if we blink too fast we're going to miss it all Jesus,
we're going to miss it all. And when Christmas comes,
will you help us to hear the sound of your voice crying
as a baby and the sound of angels in heaven proclaiming that birth?
Will you help us once again to understand the miracle and mystery
of your birth and what your birth actually means to a world
broken by sorrow? Will you help us to say yes to God, our Father,
as Mary said yes? Will you even help us to give birth to God's love
within ourselves, as Mary waited so long to give birth to you
in the little town of Bethlehem? Will you please help us Jesus
to feel and come to know the holiness of this holiday season,
from Advent to Epiphany, and beyond? Amen.
From:
Wheels Turning Inward
---
---
---

Reading one of your poems is like
opening a gift before Christmas.


It is magical, wonder filled,
but more than that too.


Each word and verse flowing through
the mind elicits something deep inside me,


and before I know it words of
my own begin


to land lightly onto a blank page, this page.
What does Christmas teach us, you think?


I think forgiveness first, and that God
in his eternal judgment, will never judge


us harsher than we have already judged
ourselves. If Christmas means anything


at all, it means this. It gives birth to a
compassion that flows throughout all creation.


And so, we each must come to our own nativity,
where God's love for the world is born.


Where we learn to cradle Christ in the heart,
learn to change our life, even the world.


Your own world.


The final lines of this poem are an allusion to Mary Oliver's poem "Swan," from her book of poems by that name. As well, she tells us in her notes, the last sentence in Rainer Maria Rilke's poem "Archaic Torso of Apollo."


---
---
Wheels Turning Inward - Amazon - Hardcover - Paperback - eBook
---