---
---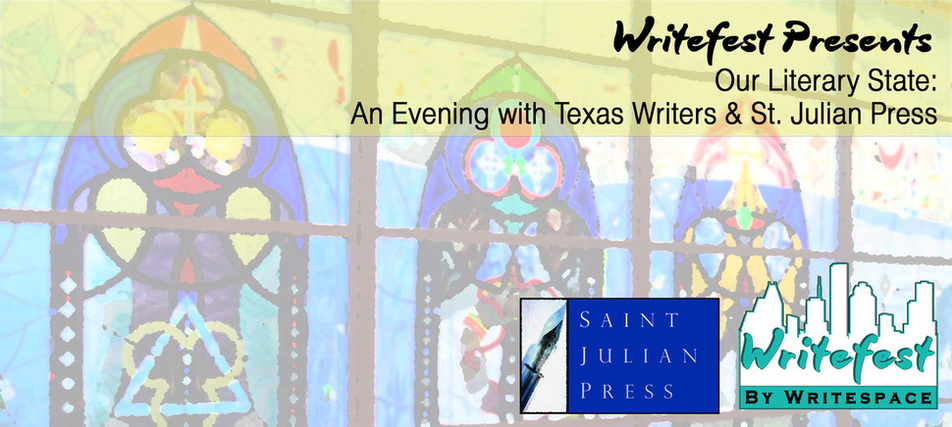 ---
Join us Saturday, February 27th at 7:30pm for an interdisciplinary reading co-hosted by Saint Julian Press! After a day of reading literary journals and listening to editors, relax by listening to some local Texas writers. Writefest pass members are welcome to attend and the event will be free and open to the public.
Featured Readers:BONNIE JO STUFFLEBEAM'S
fiction has appeared in magazines both speculative and literary such as Clarkesworld, The Toast, Lightspeed, and Hobart. She lives in north Texas with her partner and two literarily-named cats: Gimli and Don Quixote. She holds an MFA in Creative Writing from the University of Southern Maine's Stonecoast program and curates the annual Art & Words Show in Fort Worth. You can visit her on Twitter @BonnieJoStuffle or through her website:
www.bonniejostufflebeam.com.
Bonnie is represented by Ann Collette of Rees Literary.
ANIS SHIVANI
is the author of several critically acclaimed books of poetry, fiction, and criticism, including Anatolia and Other Stories (2009), Against the Workshop: Provocations, Polemics, Controversies (2011), The Fifth Lash and Other Stories (2012), My Tranquil War and Other Poems (2012), and Karachi Raj: A Novel (2015). Both Anatolia and Other Stories and The Fifth Lash and Other Stories were longlisted for the Frank O'Connor international short story award. Forthcoming books include Soraya: Sonnets and Literature in an Age of Globalization. Anis won a 2012 Pushcart Price, graduated from Harvard College, and lives in Houston, Texas.
LESLIE CONTRERAS SCHWARTZ
~ Leslie holds an MFA in poetry from Warren Wilson College and a BA in English from Rice University. Her poetry has appeared in Pebble Lake Review, Southern Women's Review, The Adirondack Review, "Improbable Worlds: An Anthology of Texas and Louisiana Poets" by Mutabilis Press, and other publications, and her essays have appeared in the Houston Chronicle, Ozy, and Dame Magazine. Her first collection of poems, FUEGO, will be published by Saint Julian Press in March 2016. To learn more go
here
.
​
DAVID GLEN-SMITH
~ Primarily a Poet and a Father of a young boy, David currently resides in Texas with his partner of over ten years. In 2010 they adopted a baby boy, Brendan—a source of new material. He teaches English Literature at Wharton County Junior College and Lone Star College - CyFair. Over the past fifteen years he has served as an instructor, graphic designer, editor, and illustrator. His drawings and writings have been published in a variety of journals across the United States. To learn more go
here
.
DONNA MCKENZIE
~ Donna is a Houston based voice talent, speaker, radio personality and creative alchemist with a passion for food, music and poetry. As the Creative Director for RFC Media in Houston, she helps design, produce, and program new cutting edge digital radio stations. Her most recent creative work is
The Boundary
, a new play in collaboration with Doug Williams.
DOUG WILLIAMS
~ Doug is an award-winning screenwriter, a playwright with four New York credits, and a co-founder of Ransom Note Films, an independent production company based in Houston. He is a former journalist and U.S. Senate press secretary, and is currently a partner in a public relations, public affairs, corporate training, and marketing firm. He is also the author of
Nowhere Man
, a political thriller, a cautionary tale in a post 9/11 world that will leave you wondering and asking why.
THE BOUNDARY
~ Dirt Dogs Theatre Co., in association with Don't Bet Against Us LLC, presents "The Boundary", a new play by Doug Williams and Donna McKenzie.
​

A successful romance novelist sees her comfortable but stagnant marriage thrown into confusion when her first (and only) great love unexpectedly returns after more than 20 years. He's now a domestic terrorist, wanted by the FBI for targeting corporate America, and he needs her help for what will be his boldest – and likely final – act of violence. She'll have to decide whether to draw a line between the two of them in order to preserve her marriage…or take a chance and cross a line to rediscover her long-lost passion. But with her husband's life potentially in the balance, she may have no choice.

Performances March 25-27 and March 31 – April 2 at MATCH
Location:
The Morrow Chapel at Trinity Episcopal Church
1015 Holman St, Houston, TX 77004 (Directly across from M.A.T.C.H.)
Date: Saturday, February 27th
Time: 7:30pm – 9:00pm
This event is free and open to the public.
​
---