Guest Author
---
MaryAnn Fry

- Author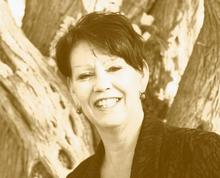 Going Naked Being Seen
by Mary Ann Fry
From a cold and stark beginning in Kansas City, Missouri, to a healthy and empowered ending in Manhattan, this beautiful story demonstrates the triumph of the human spirit and the power of love to transform. Grace arrives in unexpected ways, always on time. Powerful and engaging, this story is alive. Inspired by Mary Magdalene, this book sheds new light on emotional sobriety and spiritual freedom.
This book reveals the intimate development of conscious connection with the feminine attributes of God, as new faculties of being are developed, in real time, through ordinary life experiences. In fact, the ordinary becomes the sacred. It is a look into the heart and path of a mystic without a monastery, and a revealing portrayal of the science of love, as Mary Magdalene inspired it. Redemption means more than overcoming; it means alchemy too.
MaryAnn Fry is an Honours graduate of Thomas M. Cooley Law School, former trial attorney and adjunct professor. She's most recently worked in restorative justice programs, and tells her story where she is invited. Her Spiritual training took place in Mystery Schools in the United States.
The Space Between Notes
- An Excerpt from Chapter Nine
Facebook Page
Wordpress
Praise for ...Going Naked Being Seen
"Wow! A brilliant book. I couldn't put it down. Maryann Fry's first book has captured the essence of human endeavour. Gone is the secular-spiritual divide. We are revealed for what we are and to the max! We are human and spiritual and the turnstiles go both ways. Our power to embrace one is in direct relationship to the other. Here we have a woman with all the personal, social and economic promise our modern world can offer. And, to the outer observer, she blows it. It doesn't matter whether we lose our grip through fraud, accident, or in her case, substance abuse. The fact is we can find new doors to open. And the only ones that can ultimately sustain us are within. And Maryann gives us the key. The tenacity and commitment she once used to master the legal profession is drawn on again in her darkest hours. She leaves no stones unturned... until she is confronted with her spiritual self. Her liberation is our liberation. In each one of us there is the light. Like the Phoenix and like Maryann Fry, we can all rise from the ashes. This is an important book."
Garry Gilfoy, Author of
The Big Picture-Insights From the Spiritual World
"Riveting, real, revelatory and eloquent! MaryAnn truly goes naked in a way that exposes the beauty and power of her story and its potential to inspire countless others."
Roslyn Elena McGrath, creator of A New Radiance: Chakra Blessings from the Divine Feminine
"Mary Ann Fry, at rock bottom, took a late night cab ride in a strange city to a rehab facility, and emerged not just with her sanity and spirit, but touched by grace. Her book is uncomfortable, honest, not shy, and pierced with bright beams of insight and compassion. This is a journey into the mystic from a remarkable woman who earned her right to walk the path, but who desires only to share its wonders with us."
Greg Peters, Artist and Writer, New Orleans
"Mary Ann Fry is a courageous spirit whose words will resonate with anyone who has persevered long and hard to not only discover, but abide by their authentic self. The journey she describes in
GOING NAKED BEING SEEN
is at once universal in scope, but illuminatingly individual in detail. The world has been waiting to hear her story."
Matt Fredericks
"What looks like courage often feels like desperation," Mary Ann Fry states. Through Going Naked, Being Seen she is not only able, but willing, to sobbingly break herself open for trembling self-examination, a terrified but—at the very heart of it—loving investigation of who she has come to be and who she yearns to become. An old soul dipped in new fire, Mary Ann discovers how to get out of her own way to let divine grace and love carry her through baptisms of realization to slowly spreading light. I felt my own heart beat stronger as I moved through her chapters, celebrating with her those revelations that lead to surrender and acceptance.
Nicole Walton, Marquette, Michigan, USA
"It was a harrowing taxi ride that became a ride of self-discovery and transformation. It's a story of one persons struggle to break away from personal demons and emerge into a new life. Follow along as Mary Ann summons the courage to take a ride that becomes a journey into redemption and happiness."
John Mocella, Kansas City, Missouri, USA
"I am enthralled by your memoir. Thank you for writing. Thank you for sharing your experience, strength, and hope. Blessings!"
Julie Booth
"There are journeys we must all take in life, and a life we must learn to live with abandonment and grace, with great love and compassion, with an open awareness that we truly are more than we can possibly imagine. MaryAnn Fry has taken this journey. She is sharing it here with us, naked and open to the world. She tells her story with a wonder filled humility of heart and tenderness that most of us search for all our lives. She stands naked before us, before all of creation, and embraces her place in the world as one of God's bright children. Her story is a story of our common humanity that opens up new possibilities for any one of us; her story inspires us. We only have to open our eyes to see that so much of it is also our own story. Yes it is; we are that closely bound to one another. We breathe together as one, and by doing so we share a common life, a life filled with amazing mystery. Come and step into the mystery of her story, her life. Come walk with her, and in doing so discover your own path through creation. Held, in God's highest esteem, remembering to love the life you are living now, and living it with the greatest joy."
Ron Starbuck - Author of Wheels Turning Inward
---