Guest Author
Melissa Studdard - Writer, Poet, Professor, Editor and Tiferet Talk Show Host

---
Poet
---
Now you yourself are a tabula rasa,
the stark, blank page your fellow in emptiness,
the lovely, blank page your window to the all.
You see through gauzy windblown curtains
flashes of light, dancing rays spun round
a spinning girl, beneath the Asian pears,
beneath the ruby-throated chirps of birds.
You are her, and she is you,
and your senses flood with birdsong
and light. You can hardly tell which is which,
which comes from the bird and which
from the sun as synaesthesia engulfs you
like a hungry mood, and you now know
why Thoreau wanted to devour
the woodchuck raw, to drive his teeth
into the beating pulse of nature itself.
Only you don't want to eat the bird at all,
but, rather, her song, and to sit as near
as possible the open window, to eat the rays
of light too and consume the shimmering,
false distance between yourself and this world
so that you may be a conduit which brings
these lovely, pulsing wonders to the page
still breathing and throbbing with life.


Poet by Melissa Studdard - Copyright 2013
Publications Credits for: Poet (Hip Poetry 2012)



---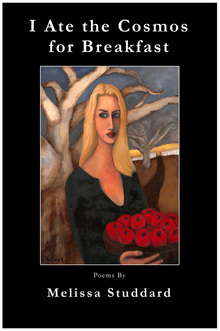 Poems are from a new collection of poetry, I Ate the Cosmos for Breakfast, written by Melissa Studdard, which will be published in the fall of 2014 by Saint Julian Press.

---
---
---