Debut poetry collection makes a meal of the cosmos

---
Houston: Press Release
- For immediate release September 15, 2014.
The Saint Julian Press Poetry Series proudly presents a new collection of poems.
I Ate the Cosmos for Breakfast by Melissa Studdard.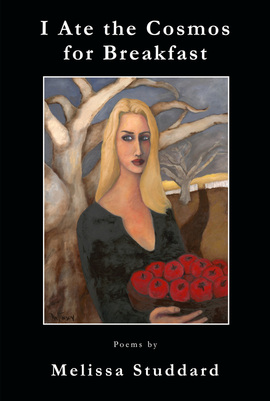 With Whitmanesque exuberance and voracity, Melissa Studdard's
I Ate the Cosmos for Breakfast
is a collection that devours the world even as it offers it—a collection that, through all its doubts and wounds, through "fire, ice, hurricanes, tsunamis, and quakes" arrives "with that tornado in its throat"—love—to spark renewal again and again.
Noting the voluptuous, yet spiritual thrust of the book, Robert Pinsky states, "Melissa Studdard's high-flying, bold poetic language expresses an erotic appetite for the world: 'this desire to butter and eat the stars,' as she says, in words characteristically large yet domestic, ambitious yet chuckling at their own nerve. This poet's ardent, winning ebullience echoes that of God, a recurring character here, who finds us Her children, splotchy, bawling and imperfect though we are, "flawless in her omniscient eyes."
Poet Cate Marvin observes, "In so many ways the poems in this book read like paintings, touching and absorbing the light of the known world while fingering the soul until it lifts, trembling. Gates splayed, bodies read as books, and hearts born of mouths, Studdard's study, which is a creation unto itself, would have no doubt pleased Neruda's taste for the alchemic impurity of poetry, which is, as we know, poetry that is not only most pure of heart, but beautifully generous in vision and feeling."
I Ate the Cosmos for Breakfast
, poems by Melissa Studdard, is published by Saint Julian Press
62 pp. * 6 x 9 * ISBN 978-0-9889447-5-6 * Hardcover $18.00
Sample Poems from I Ate the Cosmos for Breakfast
Cover Art:
The Bravest Woman
Size, 40 x 30
Oil On Canvas by Eric Anfinson. Used by gracious permission of the artist.
www .ericanfinson.com
Reviews & Poems Published in Magazines and Online
New Book Review of I Ate the Cosmos for Breakfast by Melissa Studdard. Thank you
Pedestal Magazine
. "With a heady and holy mix of elegant sensuality and spacious spirituality, the poems in award-winning writer Melissa Studdard's book I Ate the Cosmos for Breakfast read like a generous gift to the world."
AMERICAN MICROREVIEWS & INTERVIEWS:
A new, excellent
review
, on Melissa Studdard's new book of poetry,
I Ate the Cosmos for Breakfast
. "With a cosmic range of spirit and earth, Studdard's poems blend the colloquial with the sacred, visual art and the art of the body, desire with elegy with sex with peace—these poems are their own cosmos, something to taste with the rest of your breakfast."
Philippa Rees, shares a wonderful review she wrote on, I Ate the Cosmos for Breakfast.
Poems in the second issue of the exciting new journal,
Life and Legends
, which seeks to build a bridge between east and west.
The poem, "They Who See in the Dark," in
Pirene's Fountain
, is a current Best of the Net nominee.
Melissa's post, "To Love One Thing," currently appears at
Psychology Today
.Galatea Resurrects
#23 features a beautiful
review by Eileen Tabios
of
I Ate the Cosmos for Breakfast.
The Fall 2014 issue of
Knott Magazine
features a marvelous
review by Leila A. Fortier
of
I Ate the Cosmos for Breakfast.
A new micro-interview and three poems are up at
As It Ought To Be.
A lovely new review is up at
Reader's Favorite
.
The poem "Starry Night, With Socks" appears in the current issue of
Edgar Allen Poet Journal
.
The Tiferet Talk Interviews
, a collection of interviews from the first year of
Tiferet Talk
radio, received the Pinnacle Book Achievement Award and the Readers' Favorite Award.
A reprint of the title poem
I Ate the Cosmos for Breakfast
appears in Volume 7, Issue 53 of
New World Review
.
Six poems appear in the November issue of
Truck
.
---
---
Melissa Studdard
---
Melissa Stud­dard's

books include her new collection of poems

I Ate the Cosmos for Breakfast

, the best­selling novel

Six Weeks to Yehi­dah,

its companion journal,

My Yehidah,

and the interview collection

The Tiferet Talk Interviews

. Since its August 2011 release,

Six Weeks to Yehidah

has been the recipient of many accolades, including the Forward National Literature Award, the Pinnacle Book Achievement Award and

January Magazine's

best children's books. It was also named a finalist for the National Indie Excellence Awards and the Readers Favorite Awards. As well, her poetry, fiction, essays, reviews, and arti­cles have appeared in numer­ous magazines, jour­nals, and antholo­gies. Melissa cur­rently serves as a Reviewer-at-Large for

The National Poetry Review

, an editorial advisor for

The Criterion

, and an edi­tor for

Tiferet Journal,

where she hosts the journal's radio interview program,

Tiferet Talk

. Melissa received her MFA from Sarah Lawrence College and is a professor for the Lone Star College System and a teaching artist for The Rooster Moans Poetry Cooperative.

www.melissastuddard.com

Author of:

I Ate the Cosmos for Breakfast - Six Weeks to Yehidah - My Yehidah - The Tiferet Talk Interviews

---

Hardcover on Amazon

Paperback on Amazon
---
---
---
---