Press Release ~ When Angels Are Born
Ron Starbuck - Poet
---
When Angels Are Born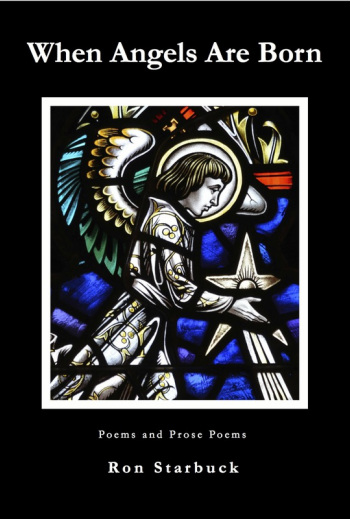 When Angels Are Born
celebrates poetry as a language of deep intimacy, a language meant to touch the human spirit and awaken it to the mystery of life, all life. These poems are an invitation into a world that is intimate and wondrous, one that explores the depths of all human hearts. Beckoning the reader to engage in a spiritual practice of divine intimacy that opens the eyes and ears of the human heart, and invites a person into the mystery of relationships and creation, a world of openness and timelessness. Such a practice offers the reader an opportunity to explore the mystery of human thought, interconnections, creativity, and design, our deepest intentions, in a perichoresis or divine dance of words, love, intimacy, and transformation. Through this dance and practice, this openness the reader may discover a spiritual indwelling, an intimacy, where we discover oneness at work throughout creation, where we find that we dwell within one another, come and dance this divine dance. "That they all may be one; as thou, Father, art in me, and I in thee, that they also may be one in us (John 17:21)."
When Angels Are Born - by Ron Starbuck (Kindle) (Hardcover)
Recordings from When Angels Are Born
Selected poems from
When Angels Are Born
Sandburg & Monroe - The Visit 1961
There Are Times
Whenever You Watch Me
Ron Starbuck's new poetry collection When Angels Are Born is a meditation, a prayer, a beautiful love song, an invitation "to sit quietly, in silence and in strength" and be transported into a world filled with light, where "we live inside one another" and where forgiveness is found. These uplifting and transcendent poems envelop the reader with grace and gratitude and echo these lines by St. Francis of Assisi: "All the darkness in the world cannot/ extinguish the light of a single candle."
We are urged to "live inside the mystery" within "infinite possibilities". Ron Starbuck reminds us "to become a sacrament of seeing," that "the mind is indeed a tremendous traveler" and "the heart is the first instrument of heaven."
At times lyrical and at times narrative, these are healing, transformative poems, suspended at the edge of the soul: "be at peace, the world/ and heaven await/ your surrender/ for each moment/ of your life." We are invited on a journey where "all the hardness/ of life simply diffuses/ like my breath/ into air." This is the voice of all creation, "you travel upon God's holy breath," invoking the eternal: "yours is a mighty soul,/ new as the earth was young,/ and or older still." ~
Hélène Cardona, Actor, poet and Henry James Scholar, author of Dreaming My Animal Selves.
Ron Starbuck is my kind of poet - he writes with a clarity and simplicity that draw me into feelings and images that can never be clear and simple. His angels can be seen everywhere, but they speak of mystery that can never be captured anywhere. My favorite among his angels is his dog, "Nick," his "old friend" who "taught me the truth of unconditional love." ~
Paul F. Knitter, Paul Tillich Professor of Theology, World Religions, and Culture, Union Theological Seminary, New York, and author of Without Buddha I Could not be a Christian.
Ron Starbuck makes his poems from a very particular point of inflection, reflection and at times of deep genuflection. There are moments of lyrical beauty, of human intimacy shared with the stranger-reader that elevate the personal into the universal. There are also insights born of deep experience and transmuted into words and rhythm that gently and powerfully invoke the sense of the sacred. This marriage of emotion and spiritual consciousness makes this poetry especially memorable and helpful to the quest for the personal knowledge of truth that his readers will be urged more eagerly to make as they become more familiar with his voice and vision. ~
Laurence Freeman OSB, author of First Sight: The Experience of Faith, and Jesus The Teacher Within.

Book Review Hyperlinks
1)
Tiferet Journal by Adele Kenney – July 2013
2)
The Loch Raven Review by Lois P. Jones
3)
Leila A. Fortier ~ March 31, 2014
4)
Gayle J. Greenlea ~ February 14, 2014
5)
Philippa Ress - December 2014
---
---
Ron is the author of
When Angels Are Born
and
Wheels Turning Inward
, two rich collections of over fifty poems, following a poet's mythic and spiritual journey that crosses easily onto the paths of many contemplative traditions. He has been deeply engaged in an Interfaith-Buddhist-Christian dialogue for many years. Ron holds a lifelong interest in Christian mysticism, comparative religion, theology, and various forms of contemplative practice. He is a former Vice President with JP Morgan Chase, now serving in the public sector on an information technology executive management team. Forming a nonprofit press to work with emerging and established writers and poets, and tendering new introductions to the world at large in the framework of an interfaith and cross cultural literary dialogue has been a long time dream. He has written occasionally for
Parabola Magazine
and also author's a blog on the Saint Julian Press web site.
If you are interested in either book, please access one of these links below.
When Angels Are Born - by Ron Starbuck (Kindle) (Hardcover)Wheels Turning Inward – by Ron Starbuck (Kindle)
---