Saint Julian Press Poet
Ron Starbuck
RON STARBUCK is the Publisher/CEO/Editor of Saint Julian Press, a poet and writer, an Episcopalian, and author of There Is Something About Being An Episcopalian, When Angels Are Born, and Wheels Turning Inward, three rich collections of poetry, following a poet's mythic and spiritual journey that crosses easily onto the paths of many contemplative traditions.
He has been deeply engaged in an Interfaith-Buddhist-Christian dialogue for many years, and holds a lifelong interest in literature, poetry, Christian mysticism, comparative literature and religion, theology, and various forms of contemplative practice.
He has been a contributing writer for Parabola Magazine. And has had poems and essays published in Tiferet: A Journal of Spiritual Literature, an interview and poem in The Criterion: An Online International Journal in English, The Enchanting Verses Literary Review, ONE from MillerWords (Feb. 2016), and Pirene's Fountain, Volume 7 Issue 15, from Glass Lyre Press (Oct. 2014), and Levure Littéraire (France – 2017). A collection of essays, poems, short stories, and audio recordings are available on the Saint Julian Press, Inc., website under Interconnections.
---
Forming an independent literary press to work with emerging and established writers and poets, and tendering new introductions to the world at large in the framework of an interfaith and cross cultural literary dialogue has been a long time dream. He has written occasionally for Parabola Magazine and also writes an online blog titled Interconnections. Ron is a former Vice President with JP Morgan Chase, now serving in the public sector on an information technology executive management team.
---
When Angels Are Born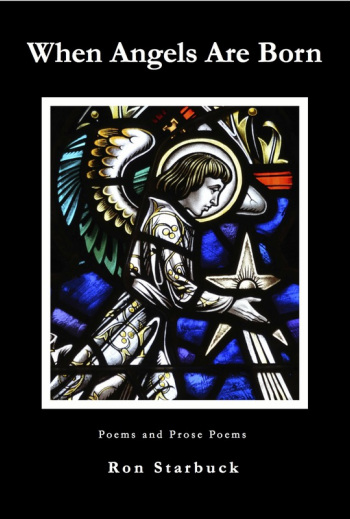 When Angels Are Born
celebrates poetry as a language of deep intimacy, a language meant to touch the human spirit and awaken it to the mystery of life, all life. These poems are an invitation into a world that is intimate and wondrous, one that explores the depths of all human hearts. Beckoning the reader to engage in a spiritual practice of divine intimacy that opens the eyes and ears of the human heart, and invites a person into the mystery of relationships and creation, a world of openness and timelessness. Such a practice offers the reader an opportunity to explore the mystery of human thought, interconnections, creativity, and design, our deepest intentions, in a perichoresis or divine dance of words, love, intimacy, and transformation. Through this dance and practice, this openness the reader may discover a spiritual indwelling, an intimacy, where we discover oneness at work throughout creation, where we find that we dwell within one another, come and dance this divine dance. "That they all may be one; as thou, Father, art in me, and I in thee, that they also may be one in us (John 17:21)."
---
"Ron Starbuck is poet who has taken to heart and soul the teaching in Psalm 46, "Be still and know that I am God." Spoken in the voice of a deep listener, who seeks to embrace all souls in the Mystery of God's Love, who seeks to heal the breach. These poems are ecumenical both in that they are unifying and in the etymological root of the word, which is derived from the Greek word for house. Here is poetry that beautifully and prayerfully makes of the world a home where all of us may dwell."


~ Aliki Barnstone, University of Missouri


<![if !supportLineBreakNewLine]>
<![endif]>

"Ron Starbuck has written a work of extraordinary vision and prophecy; this is a book of both profound reverence and a song of contemporary liturgy. It is a masterpiece that will transform the belief and devotion of all who experience these lines, either verbally or literally. Without doubt, this is a great work for the new Twenty-First Century."


~ Kevin McGrath, Harvard University