Guest Author - MaryAnn Fry


Going Naked Being Seen
---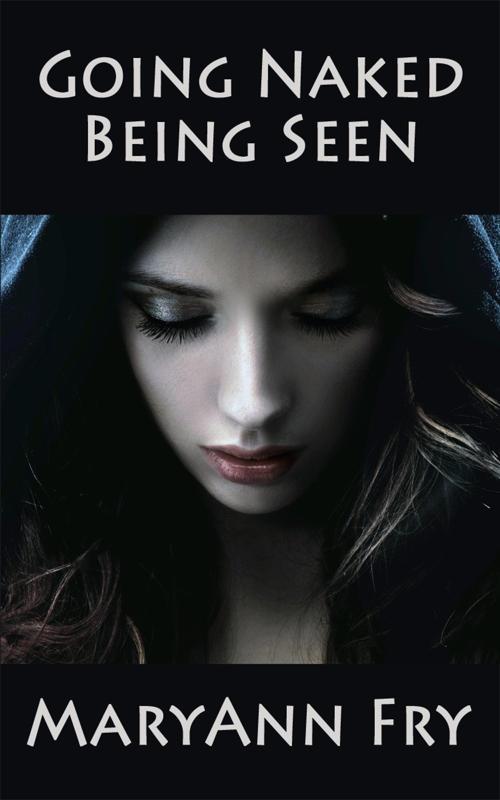 The Space Between Notes
An Excerpt from Chapter Nine
~ Several weeks later, I asked to be baptized. Mystical baptism is an initiation where the aspirant does a retrospection of their whole life, guided by Jesus and Mary. The purpose is to prepare oneself for a profound cleansing of errors and karma and for entry into a relationship with these Master teachers where they guide and instruct a life. It is sacred and I could feel it. Actually, I felt everything, again. I had thought I had completed a fearless moral inventory when I worked a program of recovery, but this process was far more intense. I was so grateful that I had I the guidance of these beings, a mystical priest, and a community of like-minded aspirants because their love strengthened me to face some very difficult realities about myself. I did know what a monumental gift such an initiation was, because it would prepare me to receive the light of God.
On the day of my baptism, I felt pretty loopy. My priest said that it was normal; I was preparing to receive the light. When the priest asked if I was ready, I said, "Yes." I felt that yes echo through eternity as I gazed into his eyes. He reflected such light through them and I knew I was in the presence of something holy. I was blessed with a new spiritual name, Josephine.
Within a month, I attended a spiritual retreat in Colorado facilitated by the Order. The landscape was stunning and the elevation made me woozy. So did the light. For five days, I was in intensive immersion with priests and deacons and fellow students. I felt like I was in the mind and heart of God. At a meditation one evening, we were led to a place where we could meet Jesus. Most of my meditation practice had been about stilling my mind, so I was apprehensive about calling up an image in my mind like the leader suggested. But, as grace moves, my desire to meet him was enough and it happened. By the end of the meditation, I was in tears. I didn't stop crying for hours. The love that I felt penetrated every facet of my being and I understood what it felt like to be known by God. The intimacy was shattering, and I was broken open, again.
We were instructed to keep such matters to ourselves or to share them only with our teacher. To set up a mental construct of God in another's mind is a grave mistake, as each person will come to know God themselves, according to their own needs. It was precisely that intimate interaction that convinced me that God knew me, and that I was worthy to be in relationship with God. I was a part of a much larger reality, and blown open by the experience.
Over the course of the next several days, I felt lighter, as if I were walking above the earth. I was awake and alive in a way that made me feel connected to everything and everybody. I was acutely sensitive to sights and smells and sounds, especially vibrations. I was glad to be nestled in a safe and quiet sanctuary for a time.
It was a very ordinary thing that grounded my experience as we left Colorado. I was behind the wheel, driving a Brother and Deacon home to Kansas City. Someone wanted ice cream, and I knew it was more than a long shot to find a place. It was late January in Colorado and I was driving through mountains and very few, small towns. Within a few seconds, a thought came to me as a directive and I said,
"Look on the left in a couple of blocks." Sure enough, within less than a mile on the left, was an ice cream store. Even ice cream, I thought, this is cool.
That is why I kept going back; because it was the first time in my life that I felt God in nearly everything. For almost six months, I went to daily meditation and communion and became an official student. The disciplines were rigorous, but the learning was magnificent. I was learning the mysteries that Jesus taught his disciples.
I was living through his emotions and events of his life and I was on fire with a love for God. The questions that I had asked all of my life were being answered and the light was infusing my body, and making me clear. It was extraordinary. And it was there that I began to understand the real significance of my intrigue about Mary Magdalene. It had been an invitation by God to walk her path and share it with others.
But that very realization was at odds with the path I was following at the Order. I was being opened to a radical path of ministry, something I had felt called to all of my life. At some mysterious point, I began to feel isolated and depressed. We were a small group of very dedicated people and few if any new people came around. I had thought I left the world and its allures long before my association with the order, but this requirement of leaving the world entirely was not feeling right. I secretly struggled for months thinking that it was merely another layer of resistance that needed to dissolve on my path toward God.
I felt split in two and raised it with my teacher. He always encouraged me and I was grateful for that, but he also spoke to me about the darkness that I was facing and that made me cautious.
So, my struggle began in earnest because I always felt like I wasn't working hard enough; wasn't surrendering enough or simply wasn't enough. This emotion felt so familiar and heavy because I had lived with it all my life. I remained haunted by the awareness of how exclusive the order felt and I was seeing evidence of arrogance that made me cautious.
I spoke to Pam and my friend Carol, but had no time to really speak with anyone else for months. Even those conversations could not capture my real torment, because I had been instructed to share only with my teachers. I did speak with Christi, once, and she said something revolutionary,
"I don't think being with God should be so hard."
That sentiment welcomed me back to something I had been slowly losing. I wasn't sure what it was, but I was opened. And in that space of not knowing, the answer finally came. It depends on what level of God you are able to be with at the time.
I remember something my teacher had asked me during my retrospection. The subject of the book that I was writing came up and he asked me,
"What if God wants you to be silent?"
At the time I answered with hesitation,
"If I knew it was God that wanted that, I am sure I would want to do it."
That question haunted me while I was a student. I certainly felt like this book was not my own work and that I had been guided, but the final yes; I wanted it to come from God. Unfortunately, I had a few teachers who seemed to be the vehicle for God's expression, so that very question filled my being with a doubt. That was the essence of my conflict. I willingly gave of my time and was blessed with the graces of understanding and growing light within my being. I drank in the teachings like nothing before in my life; for the first time in a very long time, I was stimulated and challenged and humbled by the enormity of the blessings that Jesus and Mary had bestowed on this planet. I was alive and awake in a whole new way. But, I also learned that only God called souls and that books, or written words, did not change folks. I felt like I was being led down a path of surrendering the very thing that had kept me alive, and it hurt like hell.
I had long before stopped being seduced by status or the promise of recognition, even money for that matter. What I had learned had allowed me to live unburdened by such expectations and I needed no reminding of the temptations of the ego. Something else was compelling me to finish it and I simply said yes to that something. The rest would have to be up to God. I wanted to be responsible again and this felt like a big decision.
And this is why. I had lived my life before recovery thinking I knew what I was doing but truthfully being driven by a hundred forms of fear that were disguised by other motives. When I recovered from alcoholism and depression and began to wake up, I accepted a deeper responsibility. To be authentic, and that meant that I lived my life through moments of clear and conscious knowing and through periods of doubt until that clear knowing emerged again. I had to stop asking permission from human beings to be who I was. That meant that I accepted responsibility for admitting who I was, and what I was not, even if it was only for a day. There were no shortcuts through the wanderings of uncertainty, but there was an absolute certainty that I would return to clarity. It had happened many, many times in recovery. I didn't have to beg or plead with the benevolent forces that were guiding and nourishing me, I simply chose to listen to them.
What does all of this have to do with Mary Magdalene? The message that I received when I was in treatment comes to mind.
Connect to me. To that place that has never been defiled. You are as you always were; spirit-filled, pure and holy. From this place you will heal; shine. Look beyond all appearances and feel me. The beauty comes through you, radiate it.
I had been led on a path to know what was real, and I was led by her because she forged it. I fell in love with love, just like she did and that is why I could know that I was undefiled at my core, and holy. It is why I could look beyond all appearances because I was guided by that love. I felt my way into it, no matter what things looked like on the outside. I had learned how to believe it, to know its signature, and to trust it as the source of all good. I could be liberated from everything that burdened or tormented me, if I stayed connected to that source.
My search to know Mary Magdalene had coincided with my experiences of Mary, the Blessed Mother. I had always had a profound love for Jesus and as a child had a Bible where the words he spoke were highlighted in red. That is all I ever wanted to read. I became intrigued by the absence of writings about his mother and Mary Magdalene precisely because they figured so prominently in the resurrection. Why were they there? Who were they to achieve such intimacy? Over the next twelve years, I resisted a more intellectual approach while the inspirations to write continued. I was satisfied because I felt something real and substantial going on inside of me. Just capture it Maryann, I said to myself, and I continued to write. I also continued to live, even when I was the most self destructive. The pursuit of Mary Magdalene led me through those dark days and inspired me through the transformations that followed. And I had never really known her.
I did that because I felt loved when I experienced or contemplated them. And Mary, the mother, and Mary Magdalene, the woman restored to grace, knew love of the highest order. That is why they were at the foot of the cross, where only love could remain. Mary never separated from God and that meant that her love for God was always primary. She had said yes to God, whatever the request. She had known the sustenance of love and she was qualified to birth the Son of God, the one who would lead the world to God. She was pure in this sense. Mary Magdalene had separated. A woman of beauty and means, she had allowed herself to be seduced by the worldly distractions and temptations, but they did not fill or nourish her soul. When she heard Jesus speak for the first time, something moved inside her being that felt different and real. The painful work of atonement began for her, but it was love that began the process and gave her the strength and courage to continue. She relinquished all she had to give to Jesus because she felt respected, seen and loved, perhaps for this first time. (Valtorta, 2004)
I could relate to all of this and the beauty of my awakening was that I had not known this when I started listening to this inner voice. I simply felt something wise and loving move inside of me. And it was feeling loved in this way, without expectations, and with a mercy that leveled my shame, that I truly felt redeemed. It took time, but I realized that I had been attracting attention, but not wholehearted love and respect, because I did not respect myself, or loved wholeheartedly either. That was a game changer and pattern breaker, and I felt a freedom to be myself, for the first time. I wanted to know who I was, just as Jesus wanted to know me. It all made sense, and I didn't have to study her, or her life, to understand this aspect of the mystery. What would that prove anyway? In law school I learned about the doctrine of Res ipsa loquitur, or "the thing speaks for itself." Mary Magdalene was present at some powerfully intimate moments of Jesus' life. Her power was as a vessel for the transformational reality of love, not in her status, whatever it was then. Mary Magdalene had returned. Jesus welcomed her like a prodigal daughter and he welcomed me too.
How many millions have labored with the feelings of unworthiness? How many millions have resorted to addiction to satisfy the aching longing for something they couldn't even describe? How many could be liberated if they knew the power of this love to transform them? How can I help people to understand this love and know its power to transform a life?
I sat with those questions for many months and every vicious doubt came back full circle. In my dreams, in my waking moments, and in the more subtle forms that resistance took. Then, I finally remembered the message that had originally beckoned me,
The beauty comes through you, radiate it.
My job was to remain clear, so this could happen. God would do the rest.
I decided to leave the Order, and I was more than terrified, but clear. It had been a long and sleepless weekend, but by Monday morning, I felt peaceful and rested. I intended to tell my teacher after communion. Before I could speak with him in private, he announced to our group that the Kansas City Center of Light was closing. They had made the decision over the weekend. I felt like my decision to leave the Order was supported by God in the wake of this announcement, and I was in awe. I knew I could trust my judgment after all. Nothing else mattered. Not one little bloody detail, because I knew that love would never forsake me. Jesus had reminded me of that in meditation that morning too. I don't remember much of anything after that morning at the Order; I floated in some other dimension for a time, and it felt really, really safe. Chapter 9, The Space Between Notes