Saint Julian Press Poet
Ron Starbuck - Author and Poet
---
There Are Times
---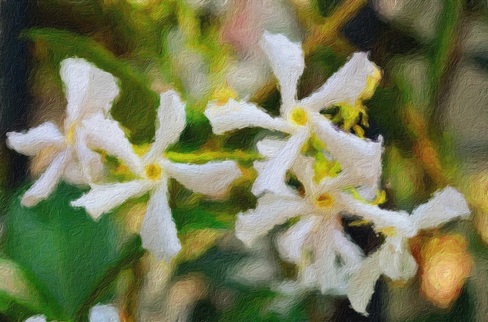 ---
There are times, when I cannot tell
the difference between you and me, of
us together. When I see the beauty of
the whole earth, because I see it
through your eyes. They are one and
the same, as if we live inside one another.
We are as one as waves of light are
one, reflecting off the snow whiteness
of a jasmine blossom in spring.
We are one as light enters and bends
inside the inner surface of our eyes,
revealing all the colors and images of life.
Flowing faster than light,
swift as a thought, becoming a vision
held inside our sight,
a single white jasmine
blooming with light
in our neighbor's garden.
Through this light, I see
myself reflected in you,
of us together.
When you breathe in, I must
in turn breathe out. When your
breath catches the sweet, enchanting
smell of jasmine, my breath
catches too. You are the first breath
that enters into me each morning,
before my eyes open to daylight to collect
and hold in that light, before the day takes
hold of us in its hallowed breathlessness.
Ron Starbuck
Copyright 2012