Guest Poet
Gayle J. Greenlea - A poem of Alice in Wonderland.

---
Wonderland
---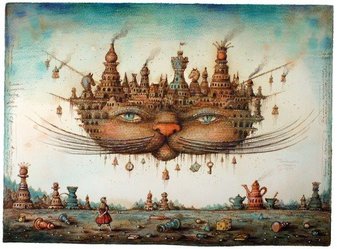 It was your pocket watch I saw first
through vibrating strings
and I followed your music by the river
the sound of you thumping in my chest
leaves of the forest winding 'round us like a jungle
tangling us in its roots
"This way, you said,"
and you took my hand
whooshing me
through a worm hole;
our fall, furious and
frenzied
doors behind us shrinking
as we drank each other like a potion
until molecules melded
in poetry and soup
inflamed with pepper that made us sneeze
we sobbed a sea of tears
for recognition and remembrance
as the Cheshire Cat grinned his disembodied grin
shooting arrows at us through the flood
the salty depths like amniotic fluid
holding us safely in a womb of home
But then the shout,
"Off with his head,"
and you were ripped from me
no warning
carried on a wave
into a garden of white roses
and I watched you through a keyhole
as you painted them all red
while the Cheshire cat's grin looked on
And the cook threw her dishes
and rubbed her eyes with habanero
until the tears wouldn't stop
and I could no longer remember my poem
or get my multiplication tables right.
And so the mad tea party began
with riddles and stories,
a substitution of variables,
inverse relationships,
and karacterz standing still, stuck at 6 p.m.
And I am a white rose you're painting red
because, you say, it's your favourite colour.
But I am purple, I tell you,
though you raise your brush of red
not caring that I bleed
or that the tarts are stolen
as the Cheshire Cat grins in space.
---
Gayle J. Greenlea began writing poetry at age eight, inspired by a love of trees which has remained a central theme throughout her life. Born in Fort Worth, Texas, she now resides in Sydney, Australia where she works as a professional Counselour and Spiritual Care Practitioner in the health system.

A peace and justice advocate for more than three decades, Gayle has worked to further multicultural and interfaith collaboration, provide care and support in the gay community, promote prevention of violence and sexual abuse and ameliorate healing for survivors. She holds an MDiv in theological studies from Trinity Lutheran Seminary in Columbus Ohio and is recipient of the Anna Seidler Award for Systematic Theology, 1988.

One of her poems was commissioned for the Fair-Well to Violence event in San Antonio, Texas in 1995, and she has written liturgy and presided as Celebrant for gatherings of the National Association of Mental Illness and the National Hispanic Ministries Conference for the Evangelical Lutheran Church in America. She has worked as both a print and broadcast journalist, Press Secretary for the Democratic Party and Get Out the Vote in Texas, and co-authored a paper on Spirituality and Health, published in the Australian Health Review, March 2010. Her poem, "Wonderland," received the PROD award from Australian Poetry in 2011.

In addition to poetry, Gayle is writing a novel, sings and plays guitar and dabbles in photography, art, quantum physics, string theory, and cosmology. She has a passion for theatre, nature, Space, cats, coffee, chocolate, cooking, Spanish language and culture, human rights and the dignity of all creatures.