Guest Author & Artist
Jackie Morris - Childrens Books
---
Books for Children and Adults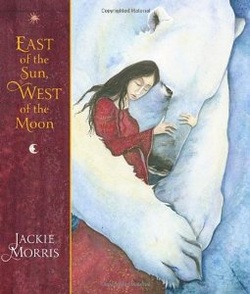 East of the Sun West of the MoonJackie Morris
lives in a small house by the sea in Pembrokeshire, Wales, where she writes and paints. She has two children, Tom and Hannah, a small pack of dogs and a small pride of cats. Her picture books for Frances Lincoln include
The Ice Bear
,
The Snow Leopard
,
Can You See a Little Bear?
,
The Cat and the Fiddle: A Treasury of Nursery Rhymes
, and
How the Whale Became
by Ted Hughes.
East of the Sun, West of the Moon
has lived somewhere in the back of her mind from the first time she ever heard it. Jackie says, "There are some stories that when you hear them for the very first time it is as if you know them, as if they are part of your soul. You then spend the rest of your life trying to understand them. This story is one of those for me." Morris is a prolific blogger, and her website is
jackiemorris.co.uk
, she also a great supporter of indie book stores and libraries.
---
---
Jackie Morris
moved to Wales just before starting her first children's book, Jo's Storm, by Caroline Pitcher and she has lived in the same place ever since, a small cottage held together by spider's webs. Cats come and go. At the moment she shares the house with four cats, they
are Elmo (ginger), Max (tabby), and Lord Genji and Lady Spittifer so called because they are creatures of pedigree.
Plus, Tom and Hannah, her son and daughter, and two odd dogs.
Things she likes:
Blue, cats, the smell of honeysuckle, rose petals, birds, words, fires, good books, crayons and paint, the smell of a new book, polar bears, moonlight and moonshadows, stars, sunrise, sunset, dew on the grass, poetry, red, random acts of kindness, long gold grass of late summer, the sound of the wind in the trees, the brush of a butterfly's wings, the fragility of bone, wasp's nests, washing on a line blowing in the wind on a sunny winter's day, the patterns the sea draws on a beach each day and night. Please enjoy this reading of The Ice Bear by Jackie Morris.
The Ice Bear - Read by Jackie Morris
Ordering Signed Books from Solva Woollen Mill in Wales
Jackie's Web Site & Blog
Book List
---